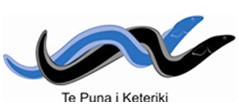 The tuna were selected to represent the wonderful town our school is in!
Blue was a colour from Otiria School, and Black was a colour from the old Moerewa School.
We have two tuna to represent the two schools that merged in 2005 to make this Moerewa School. We asked that they be intertwined to show how our communities from both schools are now intertwined and working together.
'Te Puna i Keteriki' is the spring at Otiria. It has been chosen to go underneath the tuna as it is appropriate to the area our school is in. A local whakatauki tells of the baby eels, and their journey when returning from the sea to their rivers. Only by co-operating and working together can they successfully scale the waterfall, Tiria.
We felt this was an appropriate message for us, as we start a new journey together, as Moerewa School.